100 Portland Street, Lincoln
The site of so many happy times, and sad ones, come to think of it there were some very sad times indeed. But not in the tear rolling down your cheek sort of way, oh no, some rather unfortunate occurances and happenings that will all be told (well not all of it obviously for legal and moral reasons).

So enter the twilight zone of student houses, a hotbed of sexual intrigue, a place of much merryment and a couple of murraymints....actually, its not all that exciting, but if you are going to live in a student house or you know us, then come on in. The door was, and probably still is unlocked!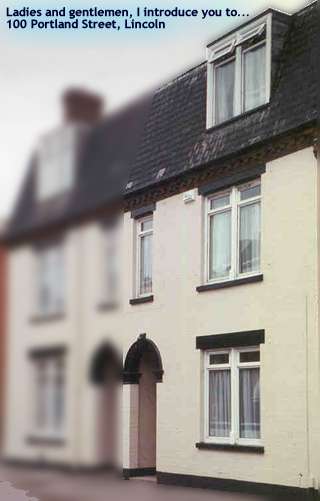 A residents Association meeting, no, just a leaving pic of the 'gang' as we were affectionately never called.
from left-right: Seb Dorey, Dan Hodgett, Richard Kendall, Paul Speed, Charlotte Bush, Claire Melon, Ian Funnell and Mark Berryman
This was our pride and joy!
28 inches of pure pulsating crap! 2000 channels of nauseating, bilge, but hey it kept us ammused when there was nothing to do, and even when there where very important things to do, but the screen used its powers of persuasion...GO READ Ian's account of his love affair with QVC
Dan's stories >>
Paul's stories >>
Rich's stories >>
Ian's stories >>

A Portland Pictorial, no. 1
new--The Portland Reunion, 2001=
page 1 | page 2 | page 3 | page 4